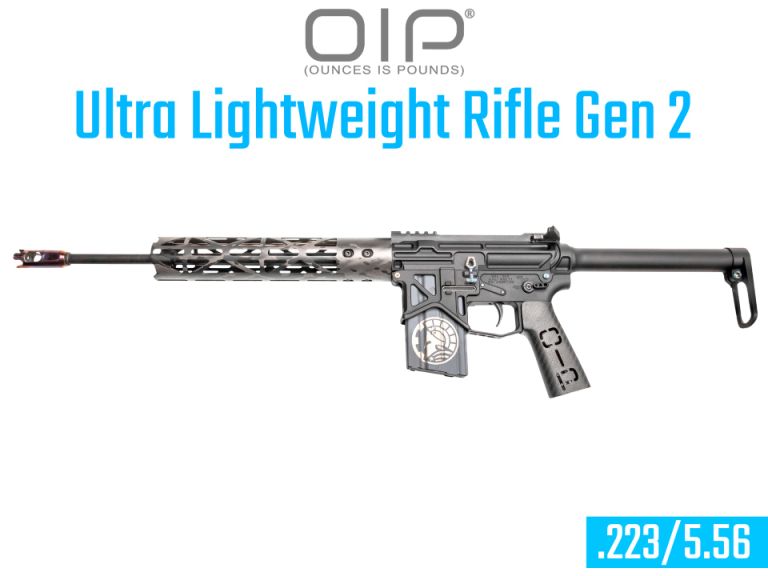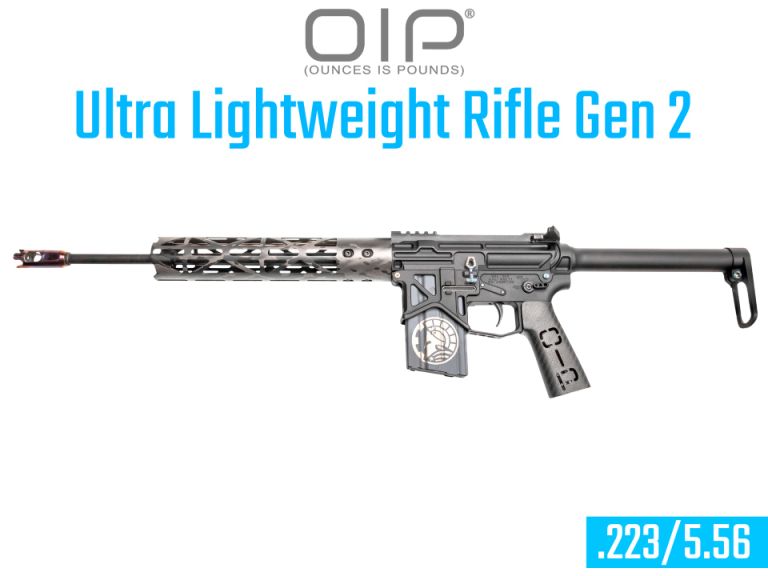 BATTLEARMS™ OIP® 002 Ultra Lightweight Rifle Gen2
MODEL OIP | BILLET 7075-T6 | SEMI-AUTO
SPECIFICATIONS
| | |
| --- | --- |
| SKU: | OIP-002 |
| UPC: | 810033782909 |
| Manufacturer: | Battle Arms Development, Inc. |
| Receiver Model: | BAD556 OIP (Billet) |
| Type: | Semi-Auto Rifle |
| Caliber: | 5.56NATO |
| Muzzle Thread: | 1/2x28 TPI |
| Rail: | 10in Carbon Fiber M-LOK Free-Float Rail |
| Gas System: | Mid Length |
| Barrel Length: | 14.5in Pinned for 16in OAL |
| Barrel Twist Rate: | 1:8T |
| Barrel Profile/Finish/Material: | OIP Profile, Black Nitride, 4150 CM, .625 |
| Weight: | 3.8 lbs (1.72 kg) |
| Overall Length: | 32in (813mm) |
| Collapsed Length: | N/A |
| Charging Handle: | RACK™ Ambidextrous Charging Handle |
| Trigger: | Rock River Arms 2-Stage National Match Trigger |
| Safety: | BAD-ASS-LW |
| Stock/Brace: | Fixed Lightweight |
| Finish: | Type III Black Hard Coat Anodize |
| Magazine: | (1) 20rd Magazine |
| Sights: | Optics Ready Platform |
DESCRIPTION
The lightest, purpose-built, no compromise, production ultralight survival carbine just got better. At only 3.8 pounds and chambered to shoot full-powered Mil-Spec 5.56 NATO ammunition, this featherweight champion just got better with newly improved components! It took years in R&D, engineering and multiple US Patents to create the most robust and reliable lightweight AR platform on the market. Building something that is not only lightweight but all the while not sacrificing strength and performance is the ultimate secret of the BATTLEARMS® OIP®.
Every component, shy of a few detents and springs, are custom built and designed to work together as a complete system. No, you will not find a parts gun here. Every part is uniquely Battle Arms Development, Inc.
The OIP® utilizes a patented OIP® buffer system in conjunction with a lightweight titanium bolt carrier with ArmorTi™ finish for durability. It is balanced with a custom mid-length gas system and a specially designed titanium THUMPER™ compensator. OIP® defies what logic would dictate from a lightweight rifle with recoil akin to a .22LR and shooting so flat that it can be fired single-handed. It is rigorously tested and proven to run reliably even in fully-automatic fire, not just semi-auto.
New in Gen 2 is the user-configurable M-LOK carbon fiber handguard and a carbon-fiber pistol grip that weighs barely one ounce. A new titanium billet CNC machined bolt catch and a lightweight single side Clutch™ charging handle are just a couple more of the new upgrades to the OIP®. The rifle was designed to be an optics ready carbine, providing a single stretch of Picatinny rail in the optimal spot for a red dot sight while eliminating the unnecessary weight of the rail elsewhere. The patented, lightweight 7075-T6 billet aluminum receivers are not simply skeletonized and hollowed out but is carefully engineered with structural consideration. The technology and engineering that foes into the OIP® Ultralight Rifle bring forth the nex evolution of the AR platform.
BATTLEARMS® OIP®, when every ounce matters.